Online Auction is Ready
The auction is online and available for viewing.  It will start Friday April 23rd at 7:00am.
Click Here
Sample Items
hamber Volunteer Nomination Form. Please fill this out and submit it to grangerchamber@gmail.com or P.O. Box 250, Granger, WA 98932 . We will be announcing our Chamber Honorees virtually.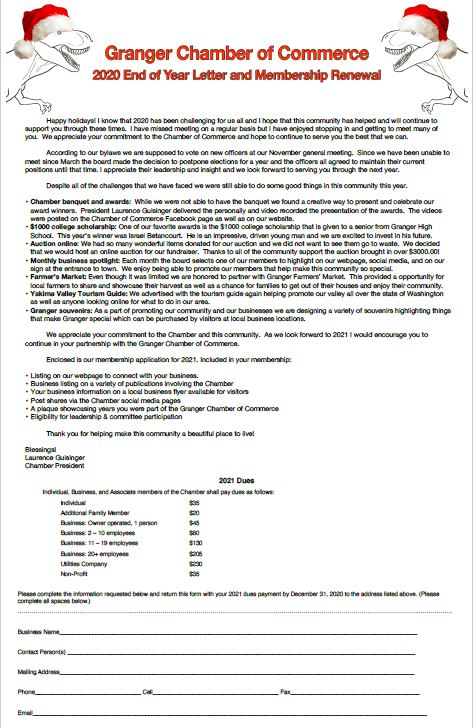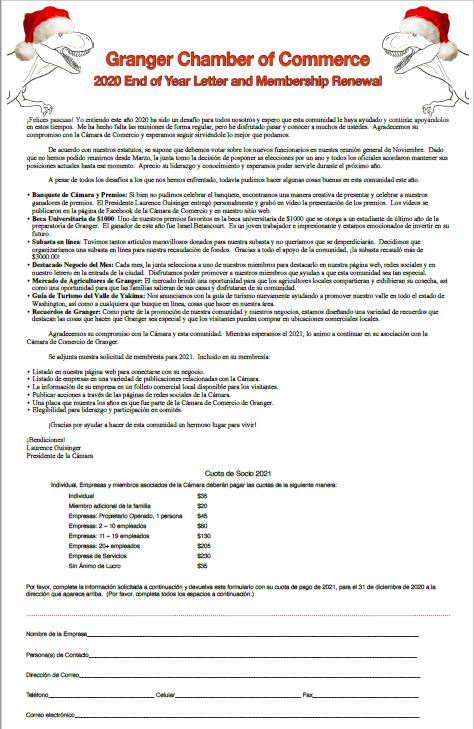 2020 Chamber of Commerce Scholarship Winner and Granger School District's Outstanding Young man: Israel Betancourt!
Israel plans to pursue a degree in biomedical science before continuing his education to become a physician. As a high school student Israel has enrolled in Honors courses and dual credit programs in History, Math, Science and English including University of Washington (in the classroom) English and Chemistry courses and Eastern Washington History. His hours of community service and strong academic achievement while a student at Granger High School will help him continue his journey as a life-long learner, physician and community member.
Israel was an officer in the National Honor Society, Future Farmers of America, M.E.cH.A., class President and a member of Art Club and Robotics Club. Throughout his high school career, he provided more than 300 hours of community service by tutoring middle school students in math and reading, helping prepare for Santa's Workshop and recruited donors for the American Red Cross.
Letters of recommendation describe Israel as the prefect role model for his peers. He has a positive attitude, is ambitious and eager to learn. He challenges himself and understands his strengths and areas for improvement. An additional strength for Israel is his ability to work well with people of all ages and backgrounds in different capacities.
2020 Granger City Employee of the year: Police Officer Vicente Medelez
Officer Medelez is a valuable part of the Granger Police Department. He has a great heart for the community and to see this city be safe and healthy. On top of being a police officer he is also a substitute teacher for Granger School District. We are very thankful for his service to this community. The following is a story from his nomination form:
"On December 8th, 2019, Officer Medelez responded to a report of an unconscious woman. When he arrived, the woman who was indeed unconscious, was lifeless. Officer Medelez performed CPR, which proved to be life saving. The woman was later transported to the hospital and has made a full recovery thanks to officer Medelez's life saving efforts."
2020 CHAMBER MEMBER OF THE YEAR: CARNICERIA LA CANDELARIA
Carniceria La Candelaria is a hidden gem in Granger. Located near the edge of downtown Granger, they provide many great things for this community. They offer various groceries & produce, an expansive meat department, as well as many delicious menu items that are made to order. Police Chief Steve Araguz says they have the best Mexican food in the valley and you would be hard pressed to argue. In fact, many of our police officers frequent their dining area when on a meal break. The owners make their customers feel valued and provide incredible service. If you have not visited this wonderful place we urge to make a trip to see them. Thanks for making Granger a great place to live and visit.
2020 GRANGER COMMUNITY VOLUNTEERS OF THE YEAR: JON & CATHY KLARICH
Jon & Cathy Klarich are an amazing part of this community. Jon is the owner of Klarich Creations and Cathy is a teacher at Granger Middle School. They are both active in the Granger Booster Club, Alumni Association, as well as the Chamber of Commerce. On top of that they are very involved with many city events and activities. There are not many events that happen in the community where you will not find Jon & Cathy being involved. Many of the websites in our area, including our own Chamber of Commerce website, are designed and managed by Jon. He also provides video production services to many schools in the area. Jon and Cathy are both often seen gathering footage of Granger sporting events to share with coaches and students. Cathy is currently a math teacher at Granger Middle School and has been involved in various groups in the school. A couple of years ago she oversaw a class of students that took a trip to Washington, D.C. and did an outstanding job organizing it.
We are very thankful for all of the contributions that this couple has made to our community and we are honored to present this award to them.
2020 GRANGER SCHOOL DISTRICT CERTIFIED EMPLOYEE OF THE YEAR (1 OF 2): SARAH GARDINER
The following is the letter presented by Granger School District:
"I have had the distinct privilege of working with Sarah for the past 9 years. In that time, she has gone above and beyond to serve the students and families of Granger.
When Dr. Gardiner started as the Special Education Director, her department faced real challenges. She immediately went to work remedying systems and issues. Under her leadership the District was brought into compliance with OSPI expectations, high quality staff have been hired and retained, and our programs and student outcomes have improved.
Sarah's title may be Special Education Director, but that does not even begin to describe the full scope of her work. In addition to her Special Education role, Sarah leads and provides support wherever she sees a need. She has advocated for stronger language programs and practices, worked actively on the Bilingual Action Team, advocated for stronger student support for both academics and behavior across our system. She has developed an after school science program for our Migrant students, fostered opportunities for parent education and involvement, and written grants that allow for additional mental health support.
Overall, Dr. Gardiner is a gifted and dedicated educator, and the Grange School District is fortunate to have her. I cannot think of anyone more deserving of this award."
Congratulations Dr. Gardiner for receiving this award!
2020 GRANGER SCHOOL DISTRICT CERTIFIED EMPLOYEE OF THE YEAR (2 of 2): SHARI PARRISH
The following is the letter presented by Dr. Sarah Gardiner of Granger School District:
"I have had the privilege of working with Shari for the past 6 years. Shari's care and commitment to helping students has had a significant impact in the special education department.
Shari consistently challenges herself professionally in order to develop the skills necessary to meet the diverse and ever changing needs of her students. She recently completed her National Board Certification and immediately began working on her Masters in Instructional Design. Additionally, Shari recognized a need for a group of outlying students within her resource room and developed an after school program to address their academic deficits.
Shari is a remarkable teacher. She understands how to differentiate instruction to reach all students in her class regardless of their cognitive, academic or language skills. Additionally, Shari has an incredible ability to build positive and supportive relationships with her students. Shari's students understand that they can trust her and they know she genuinely cares for them. Her advocacy for students with disabilities has been impressive. She works extremely well with students, staff, and parents.
Furthermore, she has demonstrated an understanding of student behavior which allows her to create developmentally appropriate behavior interventions. With every incoming class, new behaviors arise. Shari takes a holistic approach to developing classroom and individual student interventions. For example, this year, Shari approached me with concerns regarding her kindergarten class. Through a collaborative approach, Shari created a global reward system in her classroom which not only focused on the whole group but an individual level as well.
Lastly, Shari has established an outstanding collaborative process when creating individualized Education Plans (IEP). She ensures that all stakeholders have a voice in her student's education and draws from multiple sources to create achievable yet ambitious goals for all her students. Working in a predominately Spanish-speaking district, she ensures that goals are presented in a compassionate, culturally sensitive, articulate, and informed manner to parents. She has demonstrated cultural awareness in both her academic instruction to students and collaboration with parents. Since her tenure with the Granger School District's special education department, Shari has demonstrated an eagerness for professional growth. Her special education team often consults with Shari with modifying and creating lesson plans. She has demonstrated incredible patience, resilience, and an ability to manage a high caseload.
Shari goes above and beyond to support students in the school district. She is a dedicated and passionate educator and I can think of no one more deserving of this award."
Let's celebrate Shari Parrish on receiving this award!
2020 GRANGER SCHOOL DISTRICT CLASSIFIED EMPLOYEE OF THER YEAR: JULIO RAMIREZ
The following is the letter presented to us by Granger School District:
"Julio Ramirez represents the high quality of adult that we want to mentor and educate the youth in Granger. He is a model of compassion and professionalism that brings out the best in others. I recommend this Granger High School employee to you as representing the same qualities of service in public education that the Granger Chamber of Commerce stands for.
State testing is a challenging task that is carried out multiple times each year. Julio supports this effort with a positive attitude and creates an organized testing environment that allows students to demonstrate their best effort. He is always willing to take on new projects or adjust to help our programs be successful.
When there was an opportunity to be the advisor for the MECHA Club, Julio stepped up when it appeared the club would be unsupported. He led this group through fund raising and the stressful experience of holding a school dance. The group pulled off a quality activity and built the confidence of students in this club.
In his assignment, Julio has worked in classrooms to ensure that all students have a safe and supported experience. He quickly earns the trust of his teaching partners through his easy going and helpful personality. That is because he sees students for the best that they can become. Because he is assigned to support struggling students, his positive attitude combines with students and their work. There are years worth of students who would acknowledge that their success is linked to the positivity of Mr. Ramirez. He is well liked by students and parents, even when he is delivering difficult messages about student behaviors or academics. Because he is genuinely kind, he is able to be diplomatic in all of his work.
Julio has a desire to continually improve himself and is seeking out a degree that will prepare him for certification as a teacher. He is dedicated to his studies and balances this with attention to his wife and family. This models a goal driven mindset for our students as he mentors them through the after school program."
We are honored to present this award to Julio Ramirez!
2020 GRANGER SCHOOL DISTRICT OUTSTANDING YOUNG WOMAN OF THE YEAR: KAITLYN ARAYA ROETTGER
Graduating with honors in 6 categories:
· Athletics
· Dean's List
· FFA
· HOSA
· Leadership
· YV-Tech
Kaitlyn will be attending Yakima Valley College pursuing a Dental Hygiene degree and pre-dentistry preparation. Her career goal is to become a dentist. She competed in the annual HOSA event and received the HOSA $25,000 scholarship.
School/Community Involvement
· ASB president her senior year
· Participated in the American Red Cross blood drives every year.
· Participated in community events such as the Menudo Festival and Cherry Festival every year.
· Participated in planning and organizing school events such as dances, fundraisers, student body
assemblies, and the Annual Veteran's Day Recognition assembly.
School Athletic Accomplishments
· Received the Outstanding female athlete award:
· 10-time letter winner in three sports
· 2 state appearances in volleyball
· 2 team trophies in volleyball
· 2 state appearances in basketball
· 1 team trophy in basketball
· Individual medalist and team trophy in Tennis
2020 BUSINESS OF THE YEAR: LEO'S AUTOMOTIVE
It is our privilege to award this year's Business of the Year award to Leo's Automotive! If you are looking for an honest mechanic that works quickly and affordably then Leo's Automotive is just for you. Leo's Automotive is located at 602 1/2 Bailey Avenue in Granger. Leo performs all types of services for your vehicles. He works on most makes and models of vehicle. His prices are fair and he genuinely cares for his customers. Leo does a great job of explaining what needs to be done and communicates about anything that may change. He gives the price of work ahead of time as well. Leo represents this community well and is used by many in our area.
Leo had an interest in mechanics when he was eleven years old. After finishing high school, Leo moved to Phoenix, AZ where he attended Arizona Automotive Institute. Opportunity for work as a mechanic beckoned him to Sunnyside where he worked as a mechanic for seven years.
Fortunately for Granger, Leo's Automotive Service opened in our community in 2010. The business has thrived and served the Granger community ever since. He and his business are a great asset and we are so thankful who he is and all that he does. Congratulations Leo and thank you for all you do!
———————————————————————————————————————————————————–
Join the Granger Chamber of Commerce in 2020!
Let's get all businesses in Granger a part of the Chamber. Complete your membership form early in 2020.
---
Click Here for Information About Government Small Business Relief Stimulus
CHAMBER AWARDS BANQUET & SILENT AUCTION

The Granger Chamber Awards Banquet & Silent Auction was held on March 16, 2019 at the Granger High School Commons.
Our event was well attended and the silent and live auction was very successful. Thank you for the donations, bids and attendance.
Certified School District Employee of the Year: Bernadette Crider
Classified School District Employee of the Year: Gracie Aldaco
Outstanding Young Woman of the Year: Isamar Solorio
Outstanding Young Man of the Year: Alvaro Campos Gonzalez
City Employee of the Year: Terry Carter
Chamber Member of the Year: Jon Klarich
Community Volunteer of the Year: Helen Dodd
Business of the Year: O.L. Luther Company
Scholarship ($1000): Adrianaya Roettger

Welcome to the Granger Chamber of Commerce Website. Check back often for new information about the happenings in Granger.